Tips to Make Healthy School Lunches with Ease
December 10, 2018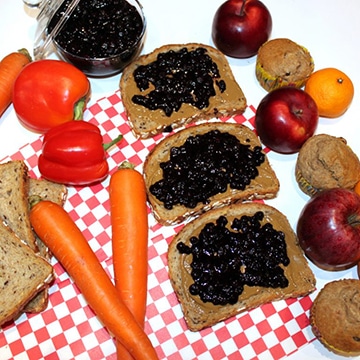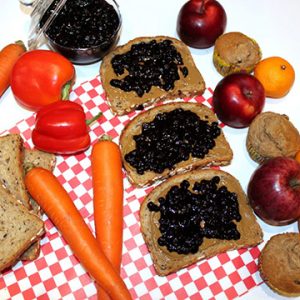 Packing school lunches ( I call it "Lunch Duty!")  can be a very daunting task that many parents need to partake in on a daily basis. Sometimes kids can be very particular about the contents of their lunch bag, I know my kids can be sometimes (I think they like making my life difficult! Haha). Often, it can be a challenge to figure out what to put inside those lunch bags that will please our little critics!
Since I have doubled as a mom and dietitian who has packed school lunches for years, I think I got it down to a science.  Read below for some of my tried and true tips on preparing school lunches, so that the lunch task can become a little bit easier and just maybe you will even enjoy the challenge!
Prep and cut your veggies and fruit ahead of time:  Every school lunch should contain some vegetables and fruit, so we can ensure our kids are meeting their daily requirements.  Kids need to eat fruits and veggies at all meals to meet the daily needs for this group.  Prepping these ahead of time, can certainly relieve some stress on busy mornings.  On a quiet Sunday morning, or evening, prepare for the few days ahead by washing, peeling and cutting vegetables and fruit and storing them in containers.  I make sure to spend a couple of hours every week in my kitchen pre-prepping vegetables, fruit and other foods, so I can ensure a smooth, stress free and easy week ahead.
Try cut up colored peppers, celery, carrots.  You can store cut up peppers on a paper towel in a container.  The paper towel will absorb the moisture and help prevent spoilage.  Carrots and celery can be stored in water in a container to prevent them from drying out.  Another way to simplify your life, is to buy pre-cut broccoli, cauliflower, snap peas, baby carrots, or, any other vegetables you can find pre-cut.
Also, a great way to enhance the nutrition and taste of salads and sandwiches is adding roasted vegetables like eggplant and zucchini.  I personally prepare the roasted veggies on Sundays and use them throughout the week.  One lunch I like to make is a roasted vegetable, egg and hummus sandwich in a whole wheat wrap.  It's delicious!
For pre-prepping fruit, cut up large fruits like melons, cantaloupe and pineapple and store them in a container.  These should last 3-4 days in the refrigerator.  Pre-cutting large fruit in advance definitely beats doing this early in the morning.
Frozen fruit is another easy option for school lunches.  They do have a waterier texture, but taste just as good and are a very healthy option.  You don't need to thaw the frozen fruit. They will be good to eat by the time lunch rolls around.  Frozen peaches and mangoes work well.  This is a great option for mornings that are crazy and advance prepping has not been done.
Bake ahead and freeze:  As often as possible, I try to use homemade snacks as opposed to store bought.  This way, I can ensure my kids are eating healthy snacks that are lower in sugar, contain the right types of fats and free of preservatives.  Often, on hand in my freezer is homemade muffins, oatmeal bars or energy balls.
If you want to reduce sugar and ensure healthier ingredients in your kids' diet, a great start is to use homemade snack as opposed to store bought.  This way, you can control the sugar content and other ingredients that go into your snacks.
When baking, doubling or tripling the recipe is the best way to be efficient and have it last a while.  Since you are already getting out your baking supplies, it's time well spent if you can bake larger quantities.  I've been doing this for years and it works very well for me.
Get kids involved in the kitchen:  There are many benefits to getting kids involved in their lunch prep and/or in any food prep.  It gives them responsibility, promotes healthful eating, fosters good lifelong habits and holds them accountable to their choices.  So, whether your kids are toddlers, teens, or in between, get them to do age appropriate tasks that contribute to their lunch.  I promise you it will pay off!  A good start, for little kids can be to wash fruit and veggies, and bigger kids can wash and cut fruits and veggies.  As time goes on, they will become more and more efficient at the tasks involved and this may relieve some of your duties too.  My 3 kids now have the responsibility to prep their fruit, veggies and snacks.  This really relieves me on busy mornings as every second counts!
Use dinner leftovers:  You can easily re purpose dinner leftovers for lunch the next day. For example, a pasta night can turn into a pasta salad the next day by adding some veggies and beans to create a balanced meal.  A side of quinoa can turn into a quinoa salad.  I often cook extra quinoa at dinner and then make it into a cold salad with veggies and chick peas or lentils the next day.  If you are cooking a hearty soup with beans, grains and veggies, this would be great in a thermos for school the next day.
What Should I put into my kids lunch bag?
In order for our kids to get in all the nutrients they need, a well-balanced lunch full of variety is essential.
So, what should the contents of a healthy lunch be?  My rule is 2 fruits, 2 vegetables, 1-2 grains, a protein and a snack (which can sometimes be more fruit or veggies too).  Here are some examples for each food category and some healthy lunch samples:
Fruits:  kiwi, strawberries, grapes, apples, pear, cantaloupe, pineapple, berries…
Vegetables:  peppers, carrots, grape tomatoes, cucumbers, cauliflower, broccoli, snap peas, chopped salad….
Grains:  whole wheat wraps, bagels, bread, quinoa, barley (in soup), brown rice…
Proteins:  Eggs, tuna, chicken, tofu, veggie burgers, cheese, chick peas, lentils, beans, seed butters, cottage cheese,
Snacks:  homemade muffins, energy balls, hummus and carrot sticks, yogurt, cheese string, roasted chick peas, roasted pumpkin seeds, shelled sunflower seeds, crackers and cheese or more fruits and veggies!
Some examples of lunches:
Bean and barley soup, peppers and carrots with hummus for dipping, strawberries and grapes, homemade banana muffin
Quinoa salad with chick peas, peaches and melon, cucumbers and grape tomatoes, and homemade energy balls
Sunflower seed butter sandwich on whole wheat bread, sliced cheese on the side, small chopped salad, strawberries and apple slices dipped in cinnamon
Omelette in a whole wheat wrap, cauliflower & snap peas and greek yogurt dip, pumpkin seeds, pear and watermelon
I've incorporated these tips for the past few years and slowly but surely adding new lunch ideas to make my "Lunch Duty" a little easier.  I now don't dread it anymore.  I actually kind of enjoy the challenge!  I hope you are motivated to incorporate some or all of these recommendations in order to make well balanced, healthy lunches with ease.