Chocolate Banana Chia Seed Pudding
November 20, 2018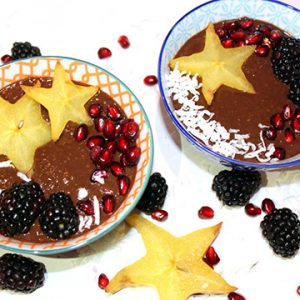 Craving chocolate?  I have your covered!  This yummy and healthy chia pudding can satisfy that craving AND nourish your body with Omega 3 fats, fibre, protein, potassium and calcium among other nutrients.

Chocolate Banana Chia Seed Pudding
Print
Ingredients
5 ice cubes
1 cup milk (of your choice)
1 banana, ripe
3 TBSP chia seeds
2 TBSP cocoa powder
1 tsp vanilla extract
1 tsp maple syrup
Instructions
Blend all in a high speed blender until pudding is smooth and thickened. Put in refrigerator for 15 in to thicken. Top with toppings of your choice ( sliced banana, berries, granola, hemp seed...). Enjoy!