Fusion Chicken and Cauliflower
March 1, 2018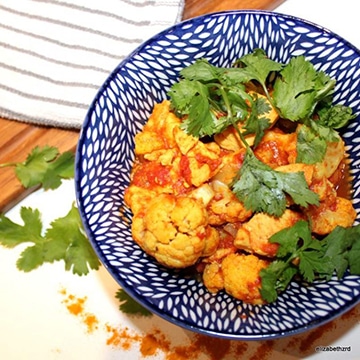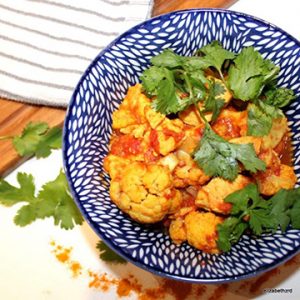 This recipe has an amazing blend of flavors that wake up your taste buds.  Serve this on a bed of brown rice and a side of salad and you got a complete meal.  This dish was inspired by the exotic flavors of Indian cuisine that I always find so delicious.

Fusion Chicken and Cauliflower
Print
Ingredients
5 chicken breasts, cut into 1" cubes
2 TBSP Avocado oil
1 large onion, chopped
3 cloves garlic, minced
1 TBSP ginger, minced
1 28 ounce can diced tomatoes
1 medium head cauliflower, chopped
1 tsp ground coriander
1 tsp turmeric
1 tsp cumin
1 tsp garam masala
1 tsp salt
1/2 tsp cayenne pepper
1 cup fresh cilantro, chopped
Instructions
Heat 1 TBSP Avocado oil on medium high heat in a large non-stick skillet. Add the chopped onion and saute until tender, about 6 minutes. Add the minced garlic, ginger and chicken and stir fry for 2-3 minutes longer or until chicken is no longer pink. Remove from skillet and set aside.
Heat remaining oil and add cauliflower. Stir fry cauliflower for 2 minutes on high heat.
Add the chicken, onion, garlic and ginger to cauliflower along with all remaining ingredients. Simmer for 20 minutes. Add chopped cilantro and serve. Enjoy!