Kale and Quinoa Balanced Health Bowl
December 15, 2017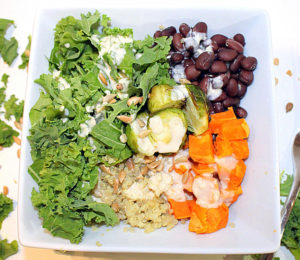 This balanced bowl contains everything to make up a balanced meal. It is great for an easy lunch. The trick is to have everything pre-prepped so you just have to throw it together easily. Pre-chopped kale is now available at many grocery stores. Or, you can pre-chop your own.

Kale and Quinoa Balanced Health Bowl
Print
Ingredients
2 cups Kale
½ cup quinoa, cooked
½ cup black beans, cooked (or from a can-rinse well)
¼ cup cooked sweet potato, cubed
¼ cup roasted Brussel sprouts (optional)
2 tbsp tahini dressing
1 tbsp toasted sunflower seeds
Tahini dressing
1/2 cup tahini
1 clove garlic, minced
1/4 cup lemon juice
1 tsp kosher salt
dash hot sauce
approx 1/2 cup water
Instructions
Combine all ingredients for dressing and whisk.
Combine all ingredients for Balanced Bowl. Add 2 Tbsp of tahini dressing.