Mediterranean Quinoa Salad
December 15, 2017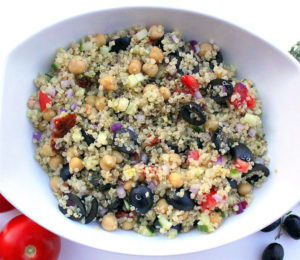 I was inspired to make this salad after my trip to Greece. Using olives in the salad adds so much flavor. This is great for an easy, portable lunch. The dressing is yummy and goes well with a green salad too,

Mediterranean Quinoa Salad
Print
Ingredients
2 cups water
1 cup quinoa
1 can chick peas, drained
½ cup black olives, sliced
1 english cucumber, diced
2 roma tomatoes, chopped
1 small red onion, diced
Mediterranean Dressing
1/3 cup olive oil
3 Tbsp Balsamic vinegar
2 cloves garlic, minced
½ tsp basil
½ tsp oregano
½ tsp thyme
½ tsp salt
¼ tsp pepper
Instructions
Bring the water to a boil in a medium saucepan over high heat. Place the quinoa in a mesh strainer and rinse under cold running water. Drain well.
Add the quinoa to the boiling water. Reduce heat to low and simmer, covered, for 15 minutes. Remove from heat and let stand, covered for 5 minutes. Fluff with a fork and let cool. Transfer to a large bowl.
Meanwhile prepare the dressing. Put all ingredients for dressing in a small bowl and whisk.
Add the remaining ingredients to quinoa. Dress and toss salad before serving.