One Pot Mediterranean Quinoa Pasta
April 30, 2020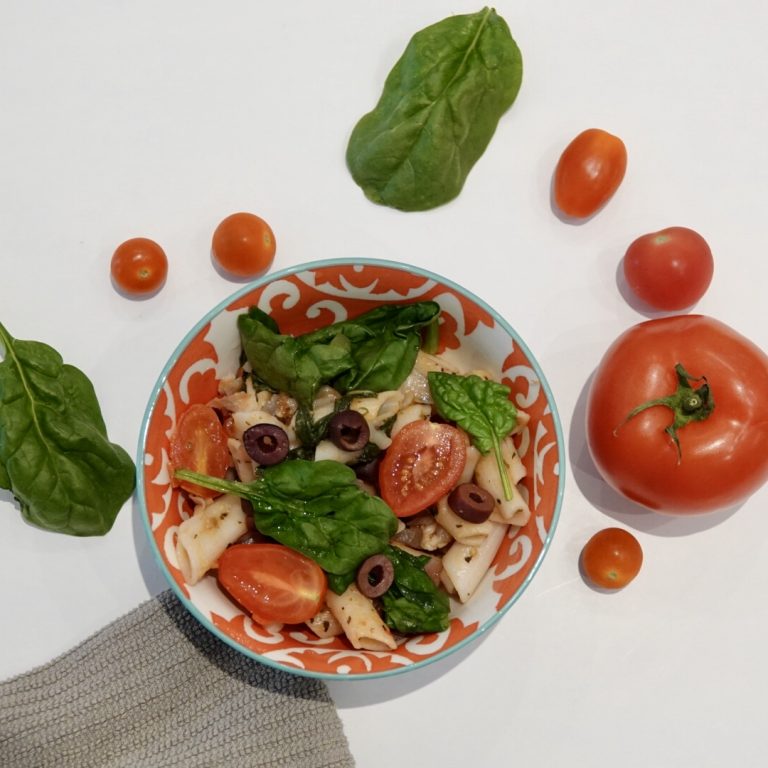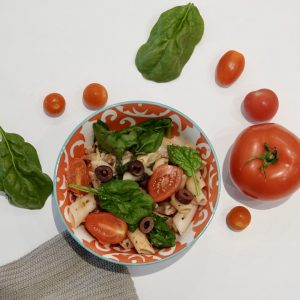 This dish is bursting with nutrients and flavor.  High in fibre, vitamin K, and lycopene!  The best part is the easy cleanup!  No draining, no colander.  Only one pot!

One Pot Mediterranean Quinoa Pasta
Print
Ingredients
2 red onion, chopped
2-3 cloves garlic, minced
3 TBSP olive oil, divided
5 cups quinoa pasta
5 cups water
3-4 tomatoes, chopped
1 cup grape tomatoes, halved
1/2 cup kalamata olives, sliced
1/2 cup fire-roasted red peppers, chopped (optional)
2 tsp basil
2 tsp oregano
1.5 tsp salt
5 cups spinach
Instructions
Heat 1 TBSP oil on medium high heat in a large non-stick skillet or pot. Add the chopped onion and garlic and saute until tender, about 6 minutes.
Add all remaining ingredients (including 2 TBSP olive oil), except spinach. Bring to a boil
Reduce heat to medium. Stir occasionally. Cook until pasta is al dente and liquid reduces into a sauce. If pasta needs more time to cook, add more water, 1/2 cup at a time. Adjust seasonings, if necessary.
Add spinach. Cook until wilted.