Sweet Potato and Kale Soup
December 13, 2017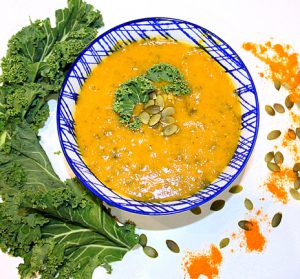 This soup is delicious and really warms the tummy on a cold winter day. It's a great dose of Vitamin A and lutein (an antioxidant) and other nutrients! The recipe calls for pureeing the soup, but it is just as delicious when it isn't pureed. My trip to the Azores, Portugal inspired me to cook more with Bay leaves. They use Bay leaves in a lot of their dishes.

Sweet Potato and Kale Soup
Print
Ingredients
2 TBSP avocado oil (or oil of your choice)
1 large onion, chopped
4 cloves garlic, minced
2 large sweet potatoes, cubed
2 large carrots, diced
1 cup red lentils
11 cups water
1 TBSP salt
2 bay leaves
1 tsp ground thyme
2 tsp ground turmeric
3 cups chopped kale
Instructions
Heat oil in a large soup pot on medium heat. Sauté the onion for 5 minutes until tender, stirring occasionally.
Add all remaining ingredients, except kale. Bring to a boil. Reduce heat to low and simmer, partially covered for 40 minutes, (or until vegetables are tender).
Add kale and cook for 5 minutes longer until kale is wilted.
Remove Bay leaves, and discard.
Using an immersion blender, puree the soup until smooth.